GData is a great program. It works very fast and deep. First, you used the program you will love it. If you need help for the best as possibly configuration, ask me or write me. I will give you instructors with images I´ll do. I myself use for the last months GData 2009 and I love it. I have the best security and no problems with viruses and other programs.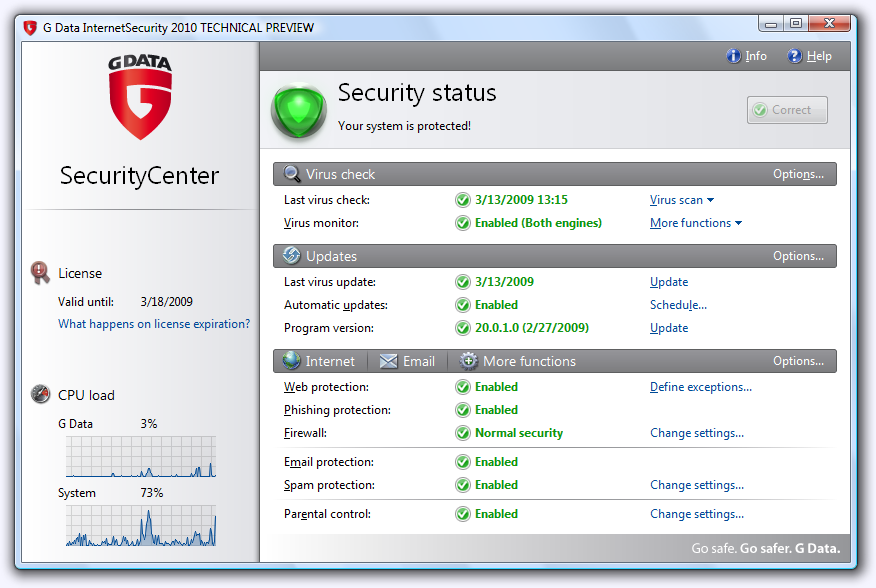 NEW: Top security with no loss of PC performance!
A new era is beginning: For the rest time, the usual optimum high security from G Data InternetSecurity is completely undetectable. Self-learning, Fingerprinting and whitelisting accelerate the test-winning protection so that PC performance remains completely unaffected
Maximum security from the record test winner.
Constant optimum virus detection
For many years the quickest response time to new viruses
The latest methods for detecting unknown viruses (behaviour blocking, heuristics, cloud security)
Simple user guidance - ideal for beginners:
With new "one click" user interfaces - everything at a glance
Automatically carries out all protection functions undetected in the background
Silent firewall without annoying querying
New, faster, more secure and even better!G DATA InternetSecurity 2010 is a highly competitive and convincing product in the anti virus marketplace with its significantly improved performance , optimised security and completely unnoticeable and silent fire-wall. The new functional design and intuitive user guidance promises even more surfing pleasure for all including gamers! And the functional design and new, intuitive user guidance promises even more genuine surfng pleasure - including for gamers.
G DATA AntiVirus
DoubleScan: top award-winning virus detection
OutbreakShield: immediate protection against new viruses
Behaviour monitoring: detects active malware in the absence of sig-natures and heuristics.
New heuristics detect even more unknown viruses
Improved protection against viruses, worms, rootkits, spyware, dialers, trojans, backdoors and much more
Virus blocker for email and instant messaging
G DATA Personal Firewall
Award-winning protection against attacks
Very easy to use thanks to new configurations
Four security levels or expert mode
When gaming: switches automatically to autopilot for invisible firewall protection
G DATA AntiSpam
Enhanced by language blocker: detects and blocks up to ten different email languages.
G DATA Parental Controls
Individual user profiles, blocks offensive or unsuitable content and much more
Keyword filter for full text searches (expandable)
Download
http://hotfile.com/d...ek110_.rar.html