News/Politics
| | |
| --- | --- |
| MPs vote to ban TV images of women dancing | |
---
Written by Quqnoos.com
Monday, 31 March 2008 17:51
"Anti-Islamic" broadcast ends in vote in favour of banning television's female dancers
MEMBERS of Parliament have voted in favour of banning women from dancing on television after a national TV station broadcast "offensive" images of unveiled Afghan women gyrating on stage alongside Afghan actors on Friday.
During a secret meeting in Parliament today (Monday), MPs voted to pass a bill forbidding television stations from broadcasting images of foreign and Afghan women dancing.
The decision comes after national television station Tolo TV broadcast images of a mixed-sex, all-Afghan dance act during its coverage of the country's film awards on Friday night (March 28).
The programme provoked outcry in Herat, where Islamic scholars threatened to burn down the television station's offices.
But others say the government should focus on more important issues
Kabul MP Shukria Barakzai said: ""The government should do something to stop people in power from raping girls and boys, and commanders from keeping little boys, before banning these programmes on television."
Read more...
| | |
| --- | --- |
| Iran, Tajikistan, Afghanistan summit | |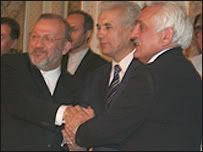 ---
The three Persian speaking neighboring countries of Iran, Afghanistan and Tajikistan here on Tuesday issued a joint communique for expansion of trilateral economic and cultural relations.

The statement, including a prelude and 12 clauses, was endorsed by Iran's Foreign Minister Manouchehr Mottaki and his Tajik and Afghanistani counterparts Khan Zarifi and Rangin Dadfar Sepanta respectively.

The document states that the three foreign ministers had in their meeting discussed issues of trilateral interest as well as regional and international issues in a friendly atmosphere, reaching the agreement to hold regular consultation on political issues and enhancing cooperation for promotion of regional stability and security.

The three sides will take joint efforts against such phenomena as terrorism, extremism, internationally organized crimes, smuggle of drugs and other new challenges and threats.

The three sides will implement a June 2003 trilateral protocol for passenger and cargo transfer on the international level and they will follow up a project for laying railway track stretching from Iran's Sangan to Afghanistani Herat and Shirkhan and from there to Tajikistan's Dushanbe.

Read more...
| | |
| --- | --- |
| Happy Nawrooz! | |
---
Happy New Years to All Persians and Tajiks Worldwide!

Tajikam Team
| | |
| --- | --- |
| SDPT to Stage Rally in Khorogh | |
www.Tajikistanweb.com
---
Tajikistan's Social-Democratic Party intends to hold a protest demonstration in Khorogh, Badakhshan province, on April 8, Asia-Plus reports. The party's regional branch has issued a special statement on the forthcoming event. The SDPT leader Rahmatollah Zairov insisted that the rally would take place regardless of the authorities' disapproval.

Ceding 1000 square kilometres of the Pamir range to China in 2002, transferring the administration of 6 Badakhshani villages to Tavildara district, and law enforcement agents' misbehaviour will be among issues to be raised in the rally, said Zairov.

Zairov believes that by giving away 1000 sq km (386 square miles) of the Tajik land to China the Rahmon administration has breached the Constitution. Article 7 of the Constitution declares the territory of the country as indivisible and inviolable. Yet the agreement on boundary delimitation between Tajikistan and China was signed and ratified by both sides about 6 years ago. By signing the accord China relinquished its claims to 28,000 sq km (10,810) of Tajikistan's territory. In 2006 the two countries pledged to commence demarcation of the revised boundary, but then one could have heard a pin drop in Tajikistan's political arena.

The two latter issues are rather fresh and have caused a few rallies already. Last Monday around 300 people gathered in Khorog to protest against 'the law enforcement organs' extortion and misbehaviour' and parliament's recent decision to transfer 6 Badakhshani villages to Tavildara district of republican subordination. The decision was ratified by the Majlisi Milli (the Upper Chamber) on March 7 despite a parliamentarian's objection who demanded to leave it up to the regional Badakhshani Majlis. "The question was supposed to be discussed with the local council of people's deputies beforehand", says Rahmatullah Zairov.
Read more...
| | |
| --- | --- |
| IMF Scandal Hovering Over Dushanbe | |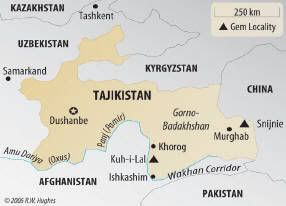 Kambiz Arman
Eurasianet

---
Burdened with an excessive foreign debt and facing a severe humanitarian crisis, the government of Tajikistan now finds itself disgraced in the eyes of the international community. One of the Central Asian nation's leading creditors, the International Monetary Fund, is demanding repayment of over $47 million in loans after determining Dushanbe cooked its books in order to make itself seem more creditworthy.
The IMF Executive Board, meeting earlier in March, determined that the Tajik National Bank had supplied the international lender with "inaccurate information" about the country's cotton sector, Tajikistan's primary export earner, as well as top employer. The bank also doctored data concerning the size of international reserves, its net domestic assets and its credit policy. The deception pre-dated the onset of Tajikistan's current crisis, in which severe winter weather has caused alarming shortages of heat and electricity.

"The Board agreed that the Republic of Tajikistan shall be expected to repay the Fund the three non-complying disbursements that were not discharged under Multilateral Debt Relief Initiative (MDRI) relief," the IMF said in a statement issued March 6. In all, Tajikistan will have to give back $47.4 million.

At the time IMF approved the loans, the Tajik National Bank reportedly led top fund officials to believe that the bank's reserves stood at $450 million, when, in fact, they were roughly one-third of that amount. In addition, the National Bank also concealed the fact that the reserves had been pledged as collateral in order to obtain commercial-bank loans to prop up the cotton sector.

Read more...
<< Start
< Prev
1
2
3
4
Next >
End >>
Results 28 - 33 of 33
Tajik Leaders
Polls