| | |
| --- | --- |
| Ferdowsi | |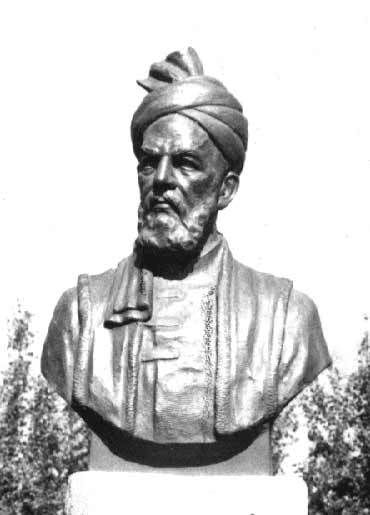 ---
By Tahir Kabuli

Firdowsi was born between the year 932 A. D. and 941 A. D. in a city of Khorasan called Tus (now part of Iran). He is regarded as one of the major poets of Khorasan and the author of the famous epic of Shah Namah (The Book of Kings).



Not much is known about his early life except that he was born in the city of Tus, Khorasan, and belonged to a family who traditionally was involved in agriculture (diqhani) and owned land. Some sources indicate that his real name is not known and Firdowsi is pen name derived from the word Firdows which mean paradise. Moreover, some other sources mentions his name to be Abul Qasem Mansur. It is assumed that he had a considerable degree of financial independence from the inheriting land and its incoming revenue.



Firdowsi remained almost all of his life in Khorasan except of a visit to Baghdad. He lived and traveled extensively in different cities of Khorasan, such as Balkh, Ghazna and cities of Northern Khorasan across the Amu Darya (Oxus River). Whether he was settled in a city or was in travel he would research and imbibe the pre- Arab values of Khorasanians particularly from the ordinary dihqan class and Samanid rulers who had great attachment to their own pre-Arab glories, greatness and independence.



Firdowsi began composing the epic of Shah Nameh in the year 975 A. D. and finally it was completed in the year 1010 A. D. after 35 years. It contains around sixty thousands couplets.

Firdowsi began composing the epic of Shah Nameh in the year 975 A. D. and finally it was completed in the year 1010 A. D. after 35 years. It contains around sixty thousands couplets.



Aruzi Samarqandi mentions Firdowsi's reason for writing Shah Nameh was financial and he was intending to earn huge financial reward for and provide for his only daughter's dowry. However, it is hard to think that a self-appointed individual sets out for a difficult mission with just minor financial gain in mind. Whatever minor expectation Firdowsi might have, his great effort was for a highly noble purpose.



Although he was financially independent, but his fortunes was depleted sometime in his middle life that compelled him to search for a patron. As it was common at those times, many poets and men of knowledge used to seek the patronage of kings in order to be able to support their projects. However, that time (late tenth century) was a difficult time. Firdowsi was committed to restore and immortalize the past greatness of Khorasanians but there was no kings who was interested in his undertaking. The great Khorasanian kings that he knew in his youth had disappeared. It was a time when the Turks era was beginning. At North the Samanid nobles were swept away by nomadic Qarakhanids and in the southern part Sultan Mahmoud had taken much of the land. Firdowsi, probably, as a last resort turned to Sultan Mahmoud of Ghazna. Almost every things that is said about Firdowsi's dealings with Sultan Mahmoud originated a century or more after the death of both men and therefore partakes more of literary legend than of historical fact. Supposedly, Mahmoud encouraged Firdowsi to complete his epic and to dedicate it to him. Firdowsi completed it and present it to Mahmoud, but Mahmoud declined to pay the large sum originally he promised and dismissed him with a payment that Firdowsi regarded as insulting. It is also said that some enemies's of Firdowsi spread rumors around about Firdowsi being a secret Shiite. It is not clear to what extend the two stories are correct but the more likely cause of Mahmoud's behavior was the subject matter of the Firdowsi's work. Firdowsi always sang the song of Khorasanians' ancient greatness and splendor and showed considerable concern about strengthening and consolidation of the national consciousness. His Shah Nameh, in essence, was an appeals for a rebuilding of erstwhile greatness. These grand ideas of Firdowsi was the likely cause of Mahmoud's dissatisfaction as he, as a Turk and son of a slave, found his self-esteem offended.



The above article is not complete and a complete version will be posted later.

Bibliography

____________. The Tragedy of Sohrab and Rostam. Translated by Jerome W. Clinton. Seattle: University of Washington Press, 1988.



Huart, Claude, and Henri Masse. "Firawsi." In The Encyclopaedia of Islam, vol. 2. 2d ed. Leiden, Netherlands: E. J. Brill, 1965.



Nizami Aruzi Samarqandi. Revised Translations of the Chahar Maqala ("The Four Discourses"). Translated by Edward G. Browne. London: Luzac and Co., 1921.



Von Grunebaum, Gustave E. "Firdausei's Concept of History." In Islam: Essays in the Nature and Growth of a Cultural Tradition. Menasha, Wis.: American Anthropological Association, 1955.



"Firdowsi." Encyclopaedia Brittanica. 1997.
Tajik Leaders
Polls