MPs vote to ban TV images of women dancing
---
Written by Quqnoos.com
Monday, 31 March 2008 17:51
"Anti-Islamic" broadcast ends in vote in favour of banning television's female dancers
MEMBERS of Parliament have voted in favour of banning women from dancing on television after a national TV station broadcast "offensive" images of unveiled Afghan women gyrating on stage alongside Afghan actors on Friday.
During a secret meeting in Parliament today (Monday), MPs voted to pass a bill forbidding television stations from broadcasting images of foreign and Afghan women dancing.
The decision comes after national television station Tolo TV broadcast images of a mixed-sex, all-Afghan dance act during its coverage of the country's film awards on Friday night (March 28).
The programme provoked outcry in Herat, where Islamic scholars threatened to burn down the television station's offices.
But others say the government should focus on more important issues
Kabul MP Shukria Barakzai said: ""The government should do something to stop people in power from raping girls and boys, and commanders from keeping little boys, before banning these programmes on television."
Read more...
Iran, Tajikistan, Afghanistan summit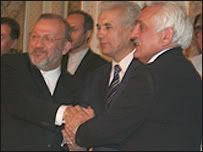 ---
The three Persian speaking neighboring countries of Iran, Afghanistan and Tajikistan here on Tuesday issued a joint communique for expansion of trilateral economic and cultural relations.

The statement, including a prelude and 12 clauses, was endorsed by Iran's Foreign Minister Manouchehr Mottaki and his Tajik and Afghanistani counterparts Khan Zarifi and Rangin Dadfar Sepanta respectively.

The document states that the three foreign ministers had in their meeting discussed issues of trilateral interest as well as regional and international issues in a friendly atmosphere, reaching the agreement to hold regular consultation on political issues and enhancing cooperation for promotion of regional stability and security.

The three sides will take joint efforts against such phenomena as terrorism, extremism, internationally organized crimes, smuggle of drugs and other new challenges and threats.

The three sides will implement a June 2003 trilateral protocol for passenger and cargo transfer on the international level and they will follow up a project for laying railway track stretching from Iran's Sangan to Afghanistani Herat and Shirkhan and from there to Tajikistan's Dushanbe.

Read more...
<< Start
< Prev
11
12
13
14
15
16
17
18
Next >
End >>
Results 46 - 48 of 53
Tajik Leaders
Polls
Iran News