Secret documents Reveal Afghan Language Policy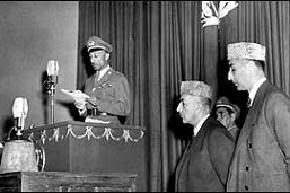 www.Tajikistanweb.com

Declassified documents of the US Embassy in Kabul are shedding more light on the language issue in Afghanistan as the world celebrates the International Mother Language Day on February 21.

An airgram, dated May 23, 1964, by the Counsellor of Embassy for political affairs Howard J. Ashford Jr. informs the US Department of State about a new language policy undertaken by the Afghan government. Interestingly, the formerly confidential document's subject reads: "Farsi-Dahri" to be Official Language".

Referring to events of April 4, 1964, the airgram reveals that Abdul Zaher, the President of the National Assembly and Chairman of the Constitutional Advisory Commission (who later became Afghanistan's Prime-Minister) had told the American Deputy Chief of Mission (DCM) about his plans to introduce 2 official languages: Pashtu and Farsi, "but the latter henceforth would be "Dahri" (misspelt "Dari" inserted in Afghan Constitution by King Zaher Shah – twc).
Read more...
<< Start
< Prev
11
12
13
14
15
16
17
18
Next >
End >>
Results 52 - 53 of 53
Tajik Leaders
Polls
Iran News